Lenoir Fire Department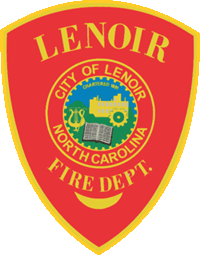 Lenoir is served by a mix of traditional and progressive firefighting, with two stations and sixty four full-time personnel in fire suppression, fire code enforcement,fire education and administration. Fire suppression is manned twenty-four hours a day. State certifications for personnel include Firefighter II, Instructor, Inspector, Rescue Technician, Fire Life Safety Educator and Hazmat Operations. This combination of professionalism and dedication ensures well-rounded services for the citizens of Lenoir.
** IF YOU HAVE AN EMERGENCY, CALL 9-1-1 **

Mission Statement
The mission of Lenoir Fire Department is to provide public safety in the form of Fire Prevention, Fire Protection, Rescue Services and Emergency Medical Care. We will constantly strive to improve the quality of life for the citizens of Lenoir.
Vision Statement
To be aggressively proactive with respect to traditions and the realization of progression.